Cave Paintings IV
89,00 €
Limited edition fine art print
Back to the origins. The paintings of the abstract art series "Cave Paintings" are earthy, expressive and intense. With their natural flair, they bring soul to your favourite space.
The Cave Paintings series was created in 2021, inspired by the discovery of cave paintings hidden deep in the Amazon. The discovery was only made public in 2020 so that archaeologists had the opportunity to study the 13 kilometres of paintings. They named the painting the "Sistine Chapel of the Early Period." In creating the series, I was guided by intuition and joy.
The series is published in a strictly limited edition of 99 pieces each.
Matt fine-art print on German Etching paper. The quality, feel and structure of the artist's paper from Hahnemühle gives the high-quality art print the authenticity of a real painting. The heavyweight paper has a warm base tone and a strongly marbled texture. It creates prints with strong colours and deep blacks that are intense and rich in contrast.
Abstract fine-art print, archival ink on German Etching paper / 310 g / m²
Size: 21 x 29 cm
Certificate of authenticity included, digitally signed.
Please note that the colours of the painting may vary slightly from screen to screen.
PRINTED TO ORDER
At Theprintspace, the highest quality fine art prints are made from my artwork by master printers, using the most modern technologies and the finest materials in the giclée printing process.
Each print is only printed to order especially for you at a local print shop in Düsseldorf, Germany.
FRAMING
The limited edition is delivered without frame and decoration.
PACKING AND SHIPPING
Packaging is done with the same care and attention that goes into producing your art print. The packaging is also designed with sustainability in mind. All packaging materials are recyclable.
Worldwide shipping – free of charge for you!
DELIVERY TIME
In addition to the processing time of a maximum of 3 days, the delivery time within Germany is 2-5 days. Your new artwork will therefore reach you within 3-8 days. Delivery times for other countries and information on calculating the delivery date can be found here.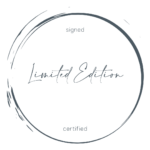 99 in stock